Resources> Data> Bing Maps for ArcGIS
Cal-Adapt: Exploring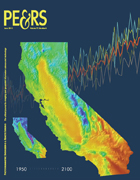 Cal-Adapt (http://cal-adapt.org) has been developed to showcase the wealth of innovative climate change research being produced by the scientific community in California, as documented in the 2009 California Climate Adaptation Strategy.
Through a combination of locally relevant information, visualization tools, and access to primary data, Cal-Adapt allows users to investigate how the climate is projected to change in their area of interest, and gives them tools to plan for these changes.
The site has been developed by the GIF with funding and advisory oversight by the California Energy Commission's Public Interest Energy Research (PIER) Program, and advisory support from Google.org. Learn more about the development of Cal-Adapt in a highlight article published in the June 2011 issue of PE&RS.
The data used within the Cal-Adapt visualization tools have been gathered from California's scientific community, and represent the most current data available wherever possible.