Kevin Koy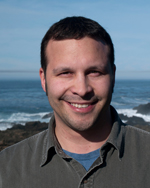 UC Berkeley - College of Natural Resources
111 Mulford Hall
Berkeley CA 94720-3114
Phone: 510.643.4539
Email (@berkeley.edu): kkoy


Kevin Koy, Executive Director of the Geospatial Innovation Facility, has over fourteen years of experience working with geospatial technology. Kevin leads research projects and applications, develops and teaches technical workshops, provides organizational support to the facility, and promotes geospatial solutions throughout the Bay Area community.
Prior to his arrival in 2008, Kevin was the Remote Sensing/GIS Specialist for the American Museum of Natural History's Center for Biodiversity and Conservation. His experience at AMNH included mapping land cover change and developing capacity building initiatives in Vietnam and Lao PDR. Kevin's experience in geospatial technology began as a Remote Sensing / GIS Analyst for the Smithsonian Institution's Conservation Biology Institute where he mapped Eld's deer habitat in Myanmar's dry dipterocarp forests.
Kevin received a B.A. in Environmental Studies and Anthropology from the University of Pennsylvania in 1998, and an M.S. in Biology from George Mason University in 2003.


Sign up for office hours advising for help with:
Geographic Information Systems (GIS)
Global Positioning Systems (GPS)
Data discovery/conversion/processing
Remote Sensing/Image Analysis
Species Distribution Modeling


Sathaye, J., L. Dale, P. Larsen, G. Fitts, K. Koy, S. Lewis, and A. Pereira de Lucena. 2013. Estimating impacts of warming temperatures on California's electricity system. Global Environmental Change. 23(2): 499-511.
Koy, K., B. Galey, M. Marsic, and M. Kelly. 2012. Cal-Adapt.org: New Data and Developments. BAAMA Journal. 6(1): 6-12. (PDF)
Kelly M., S. Blanchard, E. Kersten, and K. Koy. 2011. Terrestrial Remotely Sensed Imagery in Support of Public Health: New Avenues of Research Using Object-Based Image Analysis. Remote Sensing 3:2321-2345.
Koy, K., S. Van Wart, B. Galey, M. O'Connor, and M. Kelly. 2011. Cal-Adapt: Bringing Global Climate Change to a Local Application. Photogrammetric Engineering & Remote Sensing. 77(6): 546-550. (PDF)
Koy, K., Laverty, M., Horning, N., and Sterling, E. 2007. Improving Biodiversity Conservation in Threatened Landscapes of Central Vietnam. Center for Biodiversity and Conservation, American Museum of Natural History, New York, NY, USA. (PDF)
Koy, K., W. McShea, P. Leimgruber, B. Haack, and M. Aung. 2005. Percent canopy cover - using Landsat imagery to delineate habitat for Myanmar's endangered Eld's deer (Cervus eldi). Animal Conservation. 8(3): 289-296.
McShea, W., K. Koy, T. Clements, A. Johnson, M. Aung. 2005. Finding a needle in the haystack: Regional analysis of suitable Eld's deer (Cervus eldi) habitat in Southeast Asia. Journal of Biological Conservation. 125(2005): 101-111.
Demarķa M., W. McShea, K. Koy, and N. Maceira. 2003. Pampas deer conservation with respect to habitat loss and protected area considerations in San Luis, Argentina. Journal of Biological Conservation. 115(2003): 121-130.
McShea W., J. Pagels, J. Orrock, E. Harper, and K. Koy. 2003. Mesic deciduous forest as patches of small mammal richness within an Appalachian mountain forest. Journal of Mammalogy. 84(2): 188-204.